Body Contouring at PSL Health Center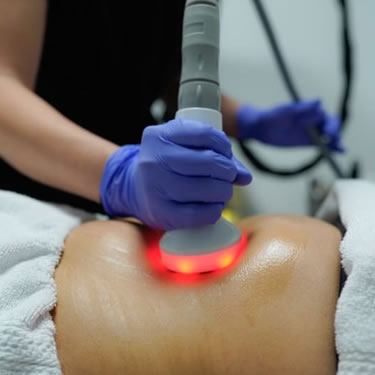 Shape, contour, lift and accentuate the body's silhouette in just ONE HOUR with our multi-modality Body Contouring system!
Our multi-modality system combines tried and tested technologies for body contouring, like cavitation and radiofrequency, and supercharges them, by adding LED and vacuum therapy.
Our favorite modality in our system is Cavitation. This procedure involves applying pressure on fat cells through ultrasonic vibrations. The pressure is high enough to make the fat cells break down into a liquid form. The body can then get rid of it as waste.
In addition to Cavitation, we treat any sagging skin with Radiofrequency! AKA – once we rid you of your unwanted fat, we work to rid you of the loose skin! Radiofrequency provides skin tightening and also actively promotes lipid metabolism and the degradation of fat cells. Radiofrequency works wonders on its own for skin tightening, or we can combine it with the pulsed vacuum for body contouring and lymphatic drainage.
LED light therapy is a supportive therapy that increases the benefits of the treatment with our system. Red LED stimulates the production of collagen and helps the body repair and replace damaged tissues.
Vacuum therapy provides lymphatic drainage, increases circulation and helps the body process the waste created from body contouring treatments. Using vacuum with body contouring helps also to improve the body and facial contours.
Benefits:
Visible firming, toning and tightening
Decreased volume of fat cells
Strengthens loose connective tissues
Slims and shapes body's silhouette
Tightens loose skin post-fat reduction
…and SO many more
It can be used (almost) anywhere on the body and is painless and safe. Noninvasive
Who needs this?
If you have sagging skin, cellulite, or unwanted fat – come see me!
---
Body Contouring Port St. Lucie FL | (772) 335-3110