Chiropractic Care
What is Chiropractic Care?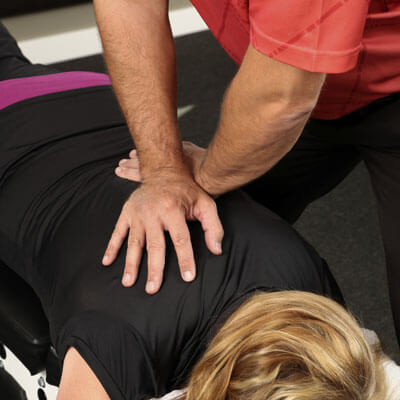 Chiropractic care is the hands-on manipulation of the subluxations of the spine. A chiropractor "adjusts" the body into proper alignment thus allowing the body to heal itself without surgery or medication. There are many ways to perform these "adjustments" and Dr. Blackwell and Dr. Rodriquez are committed to finding the ways that works best for you.
Dr. Blackwell's main goal as a chiropractor is to provide answers to anyone who has questions about their health and to put them on the right track to achieving their health goals.
The PSL Health Center Difference
We're focused on giving personal, informative care here. If you've bounced around to various doctors without results it may be because they are treating your symptoms and not the problem itself. Here at PSL Health Center, Dr. Blackwell is intent on finding the root of your pain so he can not only address it, but also stop the root of the problem and keep your pain from returning.
We're proud to offer hands on, customized care to get maximum results for our patients. By integrating chiropractic, physical and massage therapies, we seek a holistic approach to healing and strengthening the body.
It's common for people to assume their body aches and pains are beyond care. Dr. Blackwell wants you to know, you don't have to be in pain. You just have to find the right team to stop your pain.
FAQ
I've never been adjusted before. Does it hurt?
Dr. Blackwell's manipulations are gentle and only as needed. He'll work with you to explain what adjustments he's performing and find a way to perform them that meets your comfort level. There is very minimal risk with chiropractic care.
How many sessions will I need?
Our practice doesn't have a set number of prescribed sessions. Your care is completely dependent on your situation. Dr. Blackwell will recommend a care plan to get you out of pain quickly. Then he'll closely monitor your progress and adjust your treatment accordingly. He may even recommend combining your chiropractic sessions with physical therapy or massage therapy which are also available at PSL Health Center.
A chiropractor can help all kinds of people with a plethora of conditions. Whether you are losing range of motion from a sedentary lifestyle or a pro athlete suffering from overuse injuries, chiropractic care can help bring the body back into balance.
Will I need to come for the rest of my life?
Dr. Blackwell wants to get you out of pain ASAP; Our team will use everything at our disposal to do just that. Eventually we'll decrease the number of visits you make and provide you with actions to complete at home to maintain a healthy level of function.
What are the benefits of seeing a chiropractor?
There can be many benefits to seeing a chiropractor including:
Decreased pain
Increased range of motion
Decreased stiffness
Decreased tightness
Increased job/movement performance
Non-surgical relief
What condition can be helped with chiropractic care?
A chiropractor can help with many conditions such as:
Back pain
Neck pain
Hip pain
Headaches
Sciatica
Referred pain
Stiffness
Tightness
General health
Get Started Today
Dr. Blackwell can create a chiropractic plan that is right for you. Our prices are amongst the most affordable in town. Make your first appointment and let us help ease your pain.
CONTACT US »
---
Chiropractic Care | (772) 335-3110