Laser and Aesthetics at PSL Health Center
Our lasers provide greater performance and more versatility to deliver individualized results. From veins to face, body, and legs, our lasers offer a wide range of treatments for all skin types.
In addition to laser hair removal, our lasers can also be used for photoaging and rejuvenation, rosacea, discolorations, and scars.
Laser Hair Removal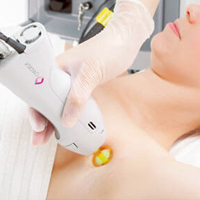 Say goodbye to shaving, waxing and tweezing with laser hair removal from Laser + Skin in Palm Beach Gardens, Florida. Laser hair removal is the most effective way to stay stubble-free!
From hairy legs to uncomfortable beard bumps, this popular procedure permanently reduces unwanted hair, creating lasting smoothness wherever it's applied with no downtime! Laser hair removal works by damaging the follicle itself, prohibiting future hair growth. Our state-of-the-art lasers can be used on all skin types and can treat the face, legs, bikini area, back, and more.
#1 Aesthetic treatment among non-invasive aesthetic procedures.
61% of women are interested in laser hair removal…
…only 9% have actually had laser hair removal.
IPL/Photofacial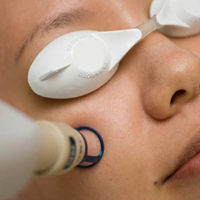 Using powerful, targeted light energy, the photofacial can be used effectively to fade dark spots and reduce many common signs of sun damage. Using intense pulses of light to penetrate deep into the skin, photofacials stimulate collagen and blood vessels below the epidermis to constrict, reducing age lines.
Photofacials can also reduce or minimize redness, pigmentation, age spots, fine lines, and large pores. Photofacials leave the skin feeling smooth and soft!
The benefits of a photofacial occur gradually over the weeks following treatment. Completely non-invasive, this treatment can be used on the backs of the hands and dècolletè as well as the face.
Skin Tightening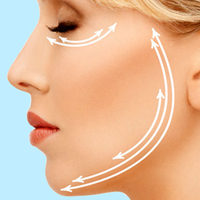 Skin tightening treatments are ideal for patients who have wrinkles, want to have younger-looking skin, but have ruled out a face lift.
Laser skin tightening is a minimally invasive, non-surgical process that tightens skin by heating the collagen under the skin's surface, causing the skin to contract. Facial skin tightening may be noticeable immediately and there is no downtime. Additional skin tightening occurs over the next few months, but optimal results typically require three to six treatments a month apart.
BONUS: Laser skin tightening also reduces fine lines and wrinkles!
Spider Veins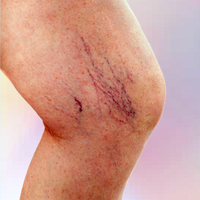 Spider veins are extremely common. They are dilated, superficial blood vessels just beneath the skin. Typically, spider veins are not painful but can be embarrassing. These red or bluish-purple spider veins are often in areas around the knee but can appear  anywhere on the body including the nose, cheeks, chin, and legs.
PSL Laser and Aesthetics can quickly and effectively remove spider veins with minimal discomfort. It generally takes 2-4 sessions for spider vein removal. These non-invasive laser treatments should be spaced approximately 4-6 weeks apart. (Larger veins may need to be injected via sclerotherapy.)
A consultation will be included to determine if this is the right procedure for you.
Skincare Services
Not sure what you need? Find out what treatment is right for you with a complimentary consultation!
Bespoke Facial
Whether you have made the decision to use natural, organic ingredients in your skincare regime or because you have developed sensitive or reactive skin from treatments and products that are too harsh for you skin type, a bespoke facial might be the treatment for you! It starts with a skin analysis, followed by treatments custom-tailored to address your individual skin concerns, using the most advanced technology and proven active products. 25, 50, or 80 minutes.

DMK Enzyme Therapy (90-120 min)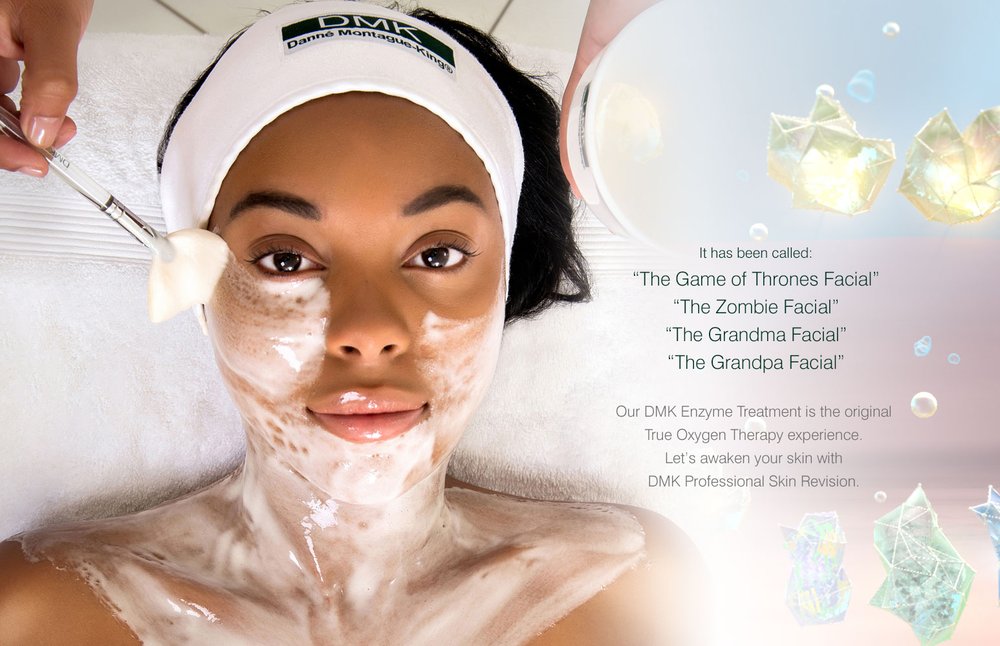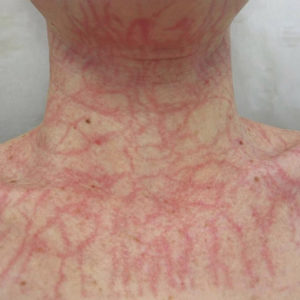 This amazing treatment restores skin to its peak condition. This "True Oxygen" treatment aims to strengthen the structural integrity of the skin to create a healthy environment for cells to live and thrive in. Enzyme therapy boosts circulation to the skin, delivering extensive amounts of oxygenated blood and nutrients to the skin cells and uses reverse osmosis to flush away toxins and waste products that may be present.
Enzyme therapy exercises facial muscles and works to leave the skin feeling firm and refreshed. Great for all skin types and conditions including aging, acne, pigmented, rosacea, redness and sensitive skins or for that instant glow!
To learn more about how the Enzyme mask works watch the video below!

Free Acne Consultation
At your in-depth consultation (30 to 60 minutes), you will learn about the foods, lifestyle choices, and other aggravating factors that may be contributing to your breakouts. A thorough health intake and skin analysis will determine your skin type, conditions, and sensitivities. Your skin will be cleansed and tested for product tolerance. Based on those results, you will be prescribed a custom home care regimen and given instructions on how to start using your products.
You may choose to book your first Acne Treatment along with your Free Acne Consultation. This is recommended if you are ready to commit to obtaining clear skin! You must discontinue use of prescription acne topical and oral medications for a minimum of two weeks before receiving your first acne treatment, and must be free from Accutane or Isotretinoin for at least 6 months. If your skin is rashy, peeling, or irritated from medications or other factors, Madison and her team will not be able to perform a treatment and will recommend starting with a Free Acne Consultation only.
Face Reality Acne Program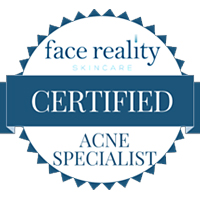 The toll acne takes on your self-esteem is painful and can leave behind both physical and emotional scars. If you have been struggling with breakouts, tried countless over the counter products or even prescription medications but nothing has worked, this program is for you.
PSL Laser and Aesthetics has a clear-skin system that will have your acne under control in about 3-4 months depending on your type of acne. We combine the power of clinical-grade homecare products that are customized for your type of acne and skin with a series of bi-monthly treatments that facilitate the clearing of your skin. We also teach you about other aggravating factors that make you break out – foods, medications, cosmetics, stress, and common ingredients in skin care formulations that might be clogging your pores (even professional and prescription products!).
Let's get you started on the path to clear skin today!
Lifting Facial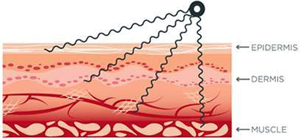 This facial work-out begins with a cleanse and exfoliation to remove the remnants of years past. Then the de-aging begins with NuFace micro-current to rejuvenate, firm, tone and lift your skin. Microcurrent is a clinically tested therapy treatment, and one of the hottest innovations in the anti-aging industry. It is used for facial contouring, toning and firming of aging skin. Microcurrent is a low-level current that mimics the body's natural current and can provide both instant and cumulative anti-aging results. Because microcurrent works sub-sensory, the treatment is soothing and most clients feel nothing at all. Microcurrent is a safe and effective technology for clients who wish to attain and maintain a healthier, younger-looking appearance. Finish with a deeply hydrating treatment and powerful peptides and you'll swear you just rolled back the hands of time!
Dermaplaning
A noninvasive, painless procedure in which surface dead skin cells are manually scraped away. Dermaplaning requires absolutely no recovery time. It increases cellular turnover, smooths and softens skin and provides immediate results. A great stand-alone treatment or can be added on to most procedures.

Chemical Peels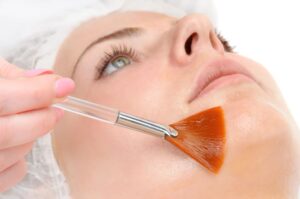 As we age, the accumulated effects of sun exposure, pollutants, acne and scarring can damage our skin and cause us to look older than we are. Such skin damage can be treated with mild to medium depth peels such as digestive enzymes, glycolic acid, salicylic acid, TCA and more. All of which produces a chemical peel that alters the pH of the skin and dissolves the protein bonds that hold the cells together.
This facial will improve acne and enlarged pores, sun damage, skin texture, color and abnormal pigmentation. It will also remove rough, dry skin, allowing for deeper penetration of products, and improve the quality and density of elastic fibers while stimulating collagen and growth factors.
Microdermabrasion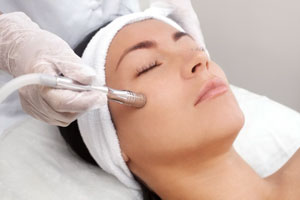 Microdermabrasion treatments use a minimally abrasive diamond tip instrument to gently sand your skin, removing the thicker, uneven outer layer of skin cells. This type of skin rejuvenation is used to treat light scarring, discoloration, sun damage, and assist in better penetration of products.
Microdermabrasion can be added to any facial or done on its own. Ideal when paired with enzyme or lunchtime peel.
Eyelash & Eyebrow Tinting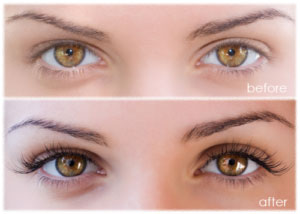 Enhance the depth of your eyes by tinting the lashes and/or brows. Lash tinting adds the appearance of fuller more voluminous lashes. This is great for those who don't want to apply mascara but still have the look of it. Eyebrow tinting can make brows appear fuller and add a bolder or more subtle look, depending on your needs.
Lash and brow tinting, as well as Lash Lifting, is ideal for those traveling and/or involved with water sports and activities or sweat often that wish to have to look of makeup without the worries of smearing or running.
Brow Shaping
Brows are expertly measured, mapped, and then shaped using wax, trimming, and/or tweezing. Brow shaping is ideal for people who have grown their brows out or don't groom or wax consistently. Get just the right shape for your brows and look your best.
Facial Waxing
Remove hair instantly from the face, even for the most sensitive of areas. Waxing can be performed on brows, nostrils, upper lip, cheek, chin, sideburns, and ears.

Please note some of the products we sell require a consultation. If you do not see the product you would like to purchase please set up a virtual or in house consultation. If you are a current client and would like to purchase a product not listed, please call/ text (561) 775-9111 or email us at sales@laserandskinpalmbeach.com and we can get it shipped or prepared for local pick-up for you.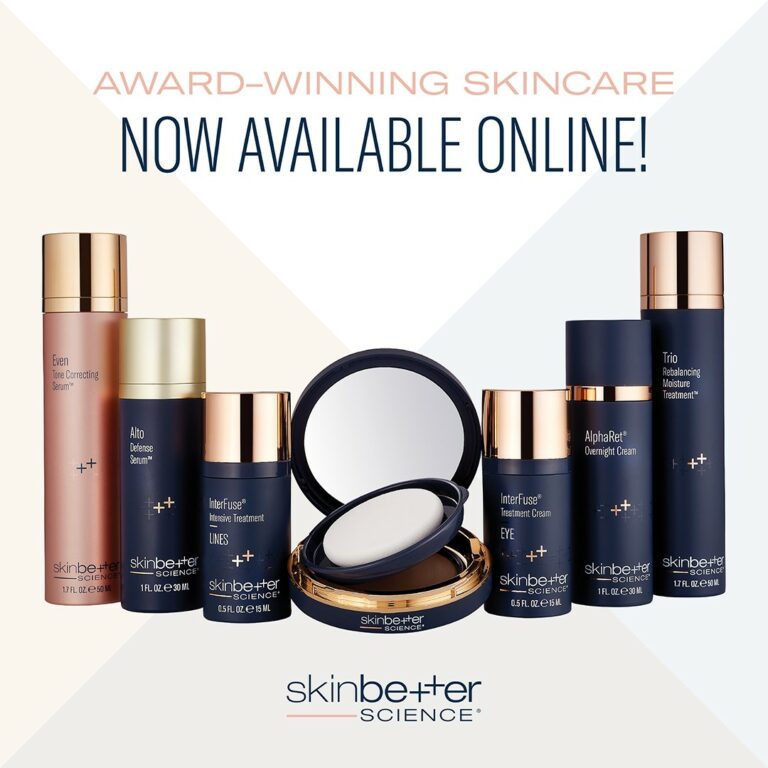 With so many skincare options on the market, Laser + Skin has chosen a select few professional skincare lines only available through authorized clinicians. Contact our professional team of skincare specialists for your in-depth skincare consultation to learn which products are right for your skin.
skinbetter science
skinbetter products are purposefully developed and only available through authorized providers. This model supports physicians and consumers by establishing genuine client-practice relationships. It's not just another skincare company. They employ accomplished science to create genuine connections with providers and real life results for clients.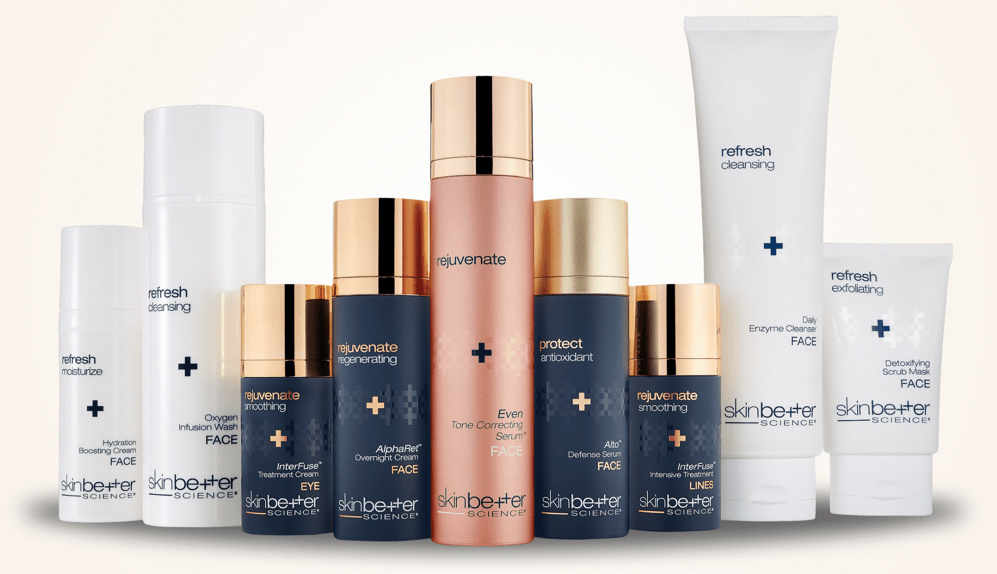 ACCOMPLISHED SCIENCE
Accomplished science represents the deep knowledge and rigorous study of skin and skincare chemistry. skinbetter believes remarkable results can be achieved simply, through purposeful product innovation, which is why they leverage advanced chemistry to help skincare products do more.
GENUINE CONNECTIONS
When you're happy with your skin, you feel more beautiful and confident! These satisfying results are best achieved by working closely with a skinbetter science authorized provider who can help you find the right treatment for your skin. Just like the perfect hair stylist or aesthetician, when the right product comes along, you'll never go back to your old favorites.
REAL LIFE RESULTS
skinbetter clients appreciate seeing results without a tedious multi-step process. In addition to being scientifically advanced, skinbetter offers an uncomplicated approach to skincare. One product can deliver remarkable results; two to three skinbetter products can change how you feel about your skin. Either way, skinbetter products ensure that real results are possible in your real life.
---
DMK
DMK believes that the origin of most skin conditions is a result of disharmony within the skin. Using the principles of biochemistry, DMK has formulated a range of treatments and products designed to educate skin to perform like youthful healthy skin. By matching formulations with the body's chemistry, the skin is encouraged to respond in a positive manner. DMK's revolutionary concept of REMOVE, REBUILD, PROTECT, MAINTAIN aims to match an individual's biochemistry with the appropriate skin therapy. Botanical-based paramedical products make up the DMK skin care program.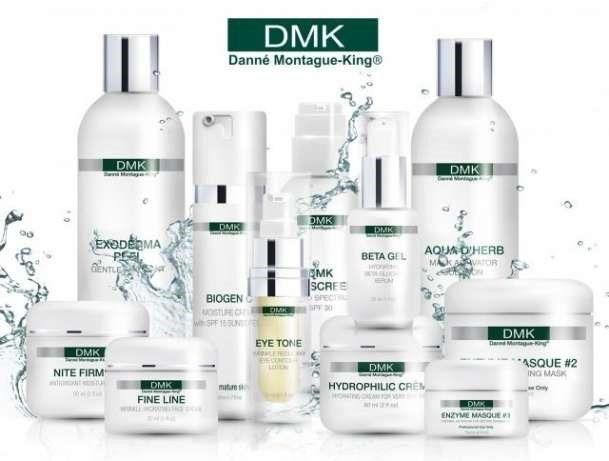 REMOVE
Remove the dead skin cell build-up, which leads to the appearance of dry skin, fine lines, congested skin or skin discolouration. DMK uses enzymatic hydrolysation, a treatment that transforms dead cell material into a weak acid and flushes it away, bringing new skin cells to the surface.
REBUILD
Rebuild skin by encouraging the skin's vital internal processes to function optimally, enabling cells to stay alive longer and perform at their highest potential, creating healthier, younger looking skin. DMK oils, serums, spritzes and crèmes work directly on the skin cells with DMK's unique 'direct delivery'. These are designed to provide natural skin tone and moisture.
PROTECT
Protect the skin from the sun, free radicals, glycation and other environmental factors that lead to premature ageing using potent natural antioxidants.
MAINTAIN
Maintain beautiful skin with DMK Home Prescriptives which work to prolong the results achieved by DMK Professional Treatments. The DMK concept provides clients with lifelong skin management programs to incorporate into their daily lives.
---
Face Reality
Face Reality Acne products treat acne, rosacea and hyper-pigmentation with a combination of in-office treatments and managed home care with custom-formulated specialized products. You get far better results than traditional methods of using antibiotics and dangerous drugs, such as Accutane.

Face Reality Acne Products
The Face Reality mission is to help as many people as possible, who are afflicted with acne, while maintaining quality of service and high rate of success. They continue to research new products and modalities to remain at the top of the skincare field. The Face Reality vision is to have the medical community recognize and adapt a safe, effective, inexpensive way to treat acne to improve the lives of millions of people.
Acne is a mysterious skin disorder, BUT can be controlled with the right combination of products, used in the correct way.
By combining the power of clinical-grade products that are customized for your type of acne, with a series of bi-monthly treatments, Face Reality Acne has a clear-skin system that will have your acne under control in about 3-4 months, depending on your type of acne. You will also learn about other aggravating factors that make you break out – foods, medications, cosmetics, stress, and common ingredients in skincare formulations that might be clogging your pores (even professional and prescription products).
As you go through your process of achieving clear skin on your face and/or body, you will want to come in for treatments every 2 weeks. Treatments are for:
exfoliating the skin so that home care products can penetrate the pore more easily; or,
hydrating the skin so that the skin is receptive to your home-care regimen
extracting existing acne impactions
killing acne bacteria inside the pore
Each acne treatment is specifically focused on what your skin needs at the time of treatment. Sometimes the skin will need more hydration, other times it will need more anti-bacterial and/or anti-inflammatory action.
MORE INFORMATION ABOUT PSL LASER & AESTHETICS

---
Laser and Aesthetics Services | (772) 335-3110