Massage Therapy at PSL Health Center
What is Massage Therapy?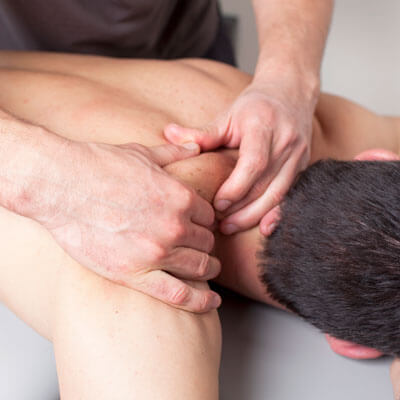 Massage therapy is a practice used to decrease pain and muscle spasms with the manipulation of soft tissues. It can also be used to increase overall wellness and mobility.
Here at PSL Health Center massage therapy is part of our integrative care plans and is used alongside your chiropractic sessions. If you're receiving massage therapy as part of your care plan, your sessions will start with your massage followed by a session with Dr. Blackwell or Dr. Rodriguez.
Our massage therapists are highly skilled and have a range of specialties from relaxation to anatomically targeted sessions. We have something for everyone's needs.
Massage Therapy at PSL Health Center
Your massage with PSL Health Center will be different from getting a massage elsewhere because our therapists work together with Dr. Blackwell as a team. Each massage therapist consults with your doctor before they begin treatment and your session is based on what you, the patient, has discussed with the chiropractor.
Here at PSL Health Center we pride ourselves on offering custom care. Your body isn't like anyone else's; therefore your sessions should be equally as unique and designed to help your specific situation.
Anyone experiencing pain, stiffness or tightness can benefit from massage therapy. Or perhaps your own bio mechanics (injuries, overuse, fatigue etc.) are hindering how you move through life. Massages therapy may be the key to gaining more mobility. Almost anyone can benefit from massage therapy regardless of age, gender or profession. You and Dr. Blackwell will discuss your health needs together and decide if you could benefit from massage therapy.
There's no special way to you need to prepare for your massage. Come ready to relax and enjoy the benefits of your session. Your therapist will need access to your soft tissue so we recommend undressing to your comfort level. You will be covered with a sheet during your treatment. We'll always try to accommodate what you're looking for in a massage but will definitely provide what your body needs. Our therapists are trained in an array of techniques and will find the best methods to address your problem and provide relief.
You may experience some discomfort when your therapist is working on "problem" areas but they'll do their best to keep you as comfortable as possible. We'd like you to leave each session feeling refreshed and relaxed. You should always feel free to address any questions or concerns about your care with your doctor or massage therapist. We're here for YOU!
Massage therapy can have many benefits including:

Reduced muscle tension
Improved circulation
Stimulation of the lymphatic system
Reduced stress
Relaxation
Increased joint mobility
Increased joint flexibility
Improved recovery of soft tissue injuries
Heightened mental alertness
Decreased pain
Conditions Massage Can Help With
Massage therapy can help with a myriad of conditions such as:
Muscle spasms
Muscle injury
On your first visit with Dr. Blackwell, he can tell you if massage therapy is right for you. We offer some of the most affordable pricing in the area, so don't hesitate to make your first appointment and take charge of your health. Book your visit today!
CONTACT US »
---
Massage Therapy Port St. Lucie FL | (772) 335-3110