Physical Therapy at PSL Health Center
What is Physical Therapy?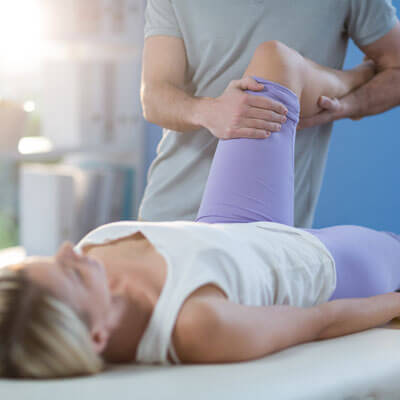 Physical therapy is a non-surgical, non-invasive way to restore, increase and maintain the body's movement capabilities. This type of therapy is often used to help decrease pain and restore function that is lost because of injury or medical conditions. If you've had an injury or are experiencing tightness or stiffness in the body, physical therapy might be a great solution for you.
Physical Therapy at PSL Health Center
We have a different approach to physical therapy here at PSL Health Center. Our physical therapy is hands on and tailor-made for your body. We don't provide passive treatment: No one will hook you up to a machine and walk away. You won't ever be lying on a table in a shared room. Instead, we offer one on one manual and therapeutic care our physical therapist can focus solely on you and your treatment. Physical therapy can work beautifully in conjunction with chiropractic care and our doctors will discuss the best combination of care with you at your initial visit. If you're being treated by more than one member of our team, you can be confident that they are collaborating on your care plan and finding the best ways for your treatments to complement one another.
Physical therapy at PSL Health Center is for anyone who wants guidance from a doctor to address reoccurring issues with chronic pain, imbalances, and movement issues. If you are someone who thinks pain and discomfort is unavoidable because you have physically demanding job, physical therapy might help you find more ease in the demands of your daily life. Physical therapy can benefit people of all ages and address a wide range of conditions.
Here at PSL Health Center we want to understand that you don't have to live with pain. We can address the symptoms you're experiencing and also address the root of your problem to keep it from returning.
You'll want to wear comfortable clothing that doesn't restrict your movement. We want you to reach your full movement potential.
Your first session with Dr. Savinski will include a comprehensive medical history. He'll want to know of any existing conditions or habits that may be exacerbating your pain and movement ability. After taking your medical history, the doctor will perform posture observations and exams to see how your body is functioning and where the bulk of your work together needs focus. From this point, Dr. Savinski, will devise and discuss a course of treatment with you. When you understand what's going on with your body and how the doctor would like to address it, you'll receive your first treatment!
Physical therapy can have many benefits including:

Reduced pain
Promotion of healing
Can prevent re-injury
Improvement in moving through daily tasks
Decreased inflammation
Decreased swelling
Increased range of motion
Increased job/movement performance
---
Physical Therapy Port St. Lucie FL | (772) 335-3110